What to Do in Orlando in December?
Dreaming of a magical vacation to Orlando, Florida? Visiting Orlando in December is a great way to maximize the magic of your visit! While most tourists choose to visit Orlando, Florida in the summertime, December can be a very good time to visit the City Beautiful, promising a wealth of fun things to do, gorgeous weather in which to do them, and smaller crowds than in the high season.

Want to make your accommodations an unforgettable part of your vacation? Take it from the experts at Storey Drive Homes for Sale by Authentic: with high-end homes and resort-style amenities, vacation home communities like Storey Drive are the way to stay! Want to book one for your next vacation?

Our partners at ILoveVH are your vacation home booking experts in Orlando. In short, whether you want to rent a vacation home or invest in one of your own, Authentic Group can help. Call now!
Discover the Best Things to Do in Orlando in December
As the vacation capital of the United States, Orlando is famous for its theme parks and attractions, shopping and dining, and outdoor recreation.
But what you may not know is that December is a good time to visit Orlando, with lower temperatures and smaller crowds making everything more enjoyable.
Scroll below to discover a few of the best things to do in Orlando in December!
1. Disney World
Orlando's number-one thing to do in December is also the world's number-one tourist attraction: Disney World.
Disney's popularity and reputation are well-deserved; with charming shows, thrilling rides, and an immersive setting, it truly is the most magical place on earth.
But the heat and long lines of summer can quickly squelch the happiness.
Don't minimize the magic of your Disney vacation.
By visiting Disney in December, you can enjoy lower temperatures and shorter lines!
Not to mention, few places get into the holiday spirit quite like Disney.
From the decorations to the parades, to fireworks and drone shows, to live musical performances, Disney will have you feeling the holiday cheer in no time!
2. Universal Studios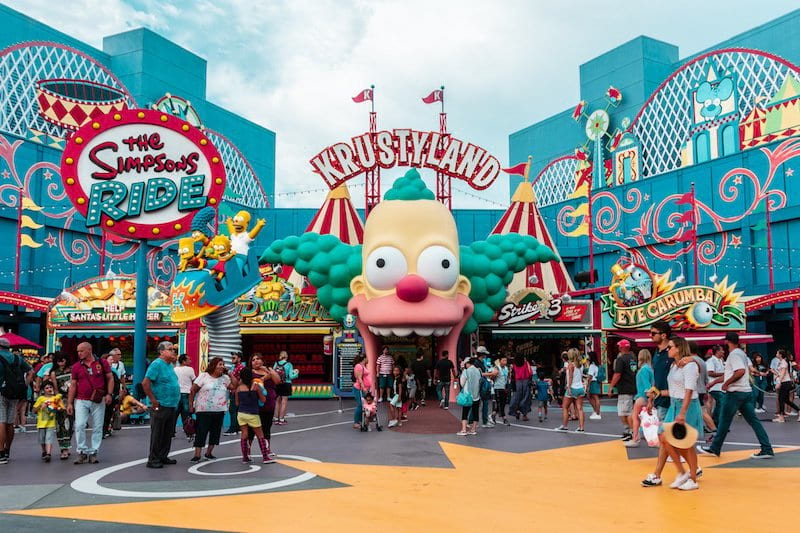 Universal Orlando Resort, which comprises Universal Studios, Islands of Adventure, and Volcano Bay, is Orlando's second-most-popular attraction, bringing in more than 20-million visitors a year.
The majority of these visitors come in the summertime, making a summer day at Universal an arduous grind of waiting in long, hot line after long, hot line.
But you don't have to face the summer grind at Universal Orlando Resort.
Because you can beat the heat and skip the lines by coming in December!
Just be sure to avoid Christmas if you want to avoid the crowds.
3. Discovery Cove
Discovery cove is the hidden jewel in the central Florida theme park crown.
Owned by sea world, discovery cove lets you swim with dolphins more than 60 miles from the nearest ocean.
Your family will never forget this once in a lifetime, intimate wildlife encounter.
However, large crowds in the summer Can sometimes put a damper on the intimacy.
Thus, while December might not sound like an ideal time to swim with dolphins, with wetsuits included in the cost of admission, it's well worth braving the cold to beat the crowds.
4. Shopping
Need to do a little shopping for the holidays?
December is a wonderful time to shop in Orlando, with the city's many malls and outdoor shopping complexes doing it up big and festive for the holidays and offering amazing sales.
Some of the best places to shop in Orlando in December include Disney springs, Winter Garden Village, Old Town, the Loop, the Florida Mall, Universal CityWalk, and Winter Park's Park Ave.
5. Go Out to Eat
Did you know Orlando is home to one of the premier culinary scenes in America?
That's right, as WalletHub's second-best foodie city in the United States, Orlando is a gastronomical garden of the lights.
It's always a good time to eat out in Orlando, Florida, but December can be especially fun, with many restaurants donning enchanted décor and offering hearty seasonal favorites sure to put you in the spirit.
Some of Orlando's most renowned spots to get a bite include Restaurant Row in Doctor Phillips, Universal CityWalk, Winter Garden Village, Winter Park, Downtown Orlando, Disney Springs, and Thornton Park.
6. Go Golfing
Did you know Florida is home to more golf courses than any other state in America?
And many of the best are located in the Greater Orlando area!
Top-rated Orlando golf courses include Bay Hill Club and Lodge, Falcon's Fire, Golden Bear Club, Isleworth Golf and Country Club, Shingle Creek Golf Club, Lake Nona Golf and Country Club, Grand Cypress, Orange Tree Golf Club, and many more!
Golfers of all skill levels will find a course to test their abilities in Orlando.
But you don't have to be an avid golfer to have a great time on Central Florida's fairways; these courses are as beautiful as they are challenging!
December is an especially great time to go golfing in Orlando, Florida, letting you stay cool and comfortable no matter what time of day you play!
7. Go Hiking
Despite its reputation as a modern metropolis, much of the greater Orlando area is preserved wilderness.
Transecting these wilderness or miles of well-maintained hiking trails they let you experience the real Florida first hand.
But in the summer, the punishing heat and humidity can make them a challenge.
By hiking in December, you can experience the beauty of Orlando's natural side in comfort.
8. Hit the Lakes
Orlando is full of pristine freshwater lakes renowned for fishing, boating, and water sports.
From the Butler Chain of Lakes in Windermere, to the Winter Park Chain of Lakes, to Lake Toho, Lake Apopka, and more, Orlando's lakes make it a water-lover's paradise.
And with mild winter temps and fewer people on the water, December makes a great time to hit the lakes!
9. Take a Hot Air Balloon Ride
Want to see Central Florida from a whole new perspective?
Florida has a lot of great assets, but as the flattest state in America, panoramic views aren't one of them.
But in a hot air balloon, Central Florida's beautiful and diverse landscapes unfold below you to reveal their secrets.
You'll find several hot air balloon companies in Orlando, all with stellar safety records and great reviews.
Flights leave before sunrise, so get rest, and dress warm – that dawn air is bracing come December!
10. Rent A Vacation Home
Whatever you choose to do in Orlando in December, vacation homes are the way to stay!
With a vacation home, you can have all the privacy, space, luxury, and comfort of home in a whole new world.
Want to save on your stay?
Plan a group vacation and rent a multifamily home to split the bill with your friends!
December makes a great time to rent a vacation home in Orlando, with rates typically lower than in the summer high season.
But no matter when you decide to visit, be sure to book with our partners at ILoveVH for the best homes, at the best prices, and a full range of concierge services tailored to your needs.
What's the Weather in December in Orlando Florida?


December is a beautiful time of year in Orlando.
High temperatures average in the low 60's, and lows rarely fall below 50 degrees.
The air is typically dry, with plentiful sunshine to complement the crisp cool air.
Thus, December in Orlando makes a great time to get out and enjoy Central Florida's abundant outdoor activities like golf, boating, and hiking.
Can I Swim in Orlando in December?
Orlando is full of opportunities for swimming, from all-natural options like Central Florida's famous springs, to a wealth of world-class water parks.
And with a warm subtropical climate, Central Florida is suited to swimming all year long.
Orlando's springs and water parks are also much less crowded in December.
And while the springs can be bracing, the water parks are heated.
Want to enjoy your own heated swimming spot during your December vacation to Orlando?
With our partners at ILoveVH, you can book a great holiday pool home, have it heated before you arrive, rent a grill to cook out poolside, and more!
Is Disney Crowded in December?
Disney World is the world's number-one most-popular theme park.
In fact, of Orlando's 70 million annual visitors, a whopping 60 million come to experience Disney World.
Thus, Disney World is never truly not busy.
But although the days between Christmas and New Year's see some of the largest crowds of the year, the rest of December is a great time to visit, with small crowds, cheerful holiday décor, and beautiful weather.
Are Water Parks Open in December in Orlando FL?
As mentioned, Orlando's water parks stay open every month of the year, including December.
On unusually cold days the parks may close, as the cost of running the park outweighs the money coming in at the gates.
But in general, with mild weather, heated water, and small crowds, December makes a great time of year to experience these amazing attractions.
Want to book a vacation to SeaWorld's Aquatica or Discovery Cove, or Universal's Volcano Bay?
Our partners at ILoveVH by Authentic are your source for great rates on vacation rentals near Orlando's water parks!
How Should I Dress for Disney in December?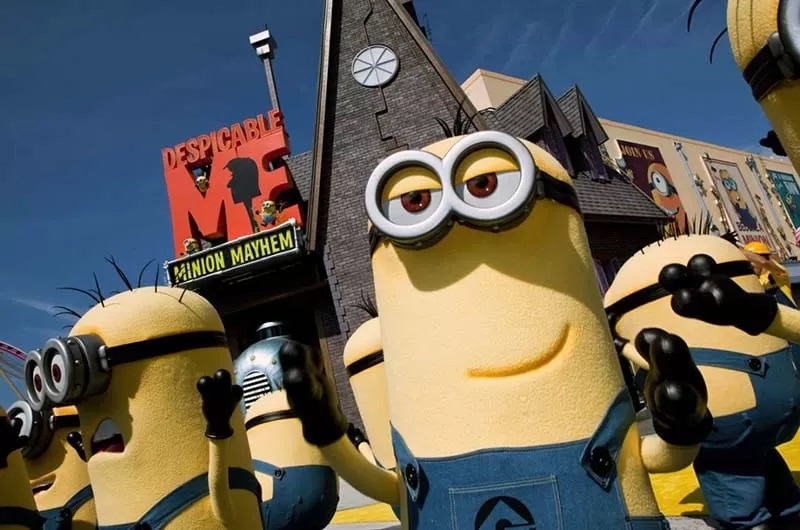 The best way to dress for Disney in December is to wear layers.
The weather in Florida is volatile, so between morning, afternoon, at night the temperatures can swing wildly.
Thus, while you may need a jacket in the morning, by afternoon you may be More comfortable in a sweater or even a T-shirt.
Jeans are a safe bet in December, though you may want to bring along a bathing suit if you want to ride any of the water-based attractions.
In fact, It can be a good idea to bring a whole change of clothes in case you get soaked on one of these water rides, or in case of an unexpected rain shower.
Lastly, but very importantly, be sure to wear comfortable shoes as you'll be in for a lot of walking.
Conclusion: What to Do in Orlando Florida in December?
In conclusion, whether you want to visit the theme parks, go golfing, or explore Orlando's many natural wonders, December makes a great time of year to do it.
And if you want to maximize the magic of your December Orlando vacations for years to come, Storey Drive Homes by Authentic has great deals on vacation homes in Storey Drive.
Get in touch with us today!